Q-1: Evaluating the essential and unique resources and core competencies of H&M through an internal analysis.
Answer: in order to accelerate the growth of an organisation, it is essential to know about the strengths and weaknesses of that particular organisation. In order to learn about the strengths and weaknesses, it is necessary to conduct an internal analysis. There is no fundamental rule to conduct such an analysis. A company can perform such analysis by identifying three specific aspects –
Unique and basic resources

Internal capabilities and

Core competencies of the company.
Internal Analysis:
A company can increase its customer values by enhancing unique resources and capabilities and increase core competencies. Customer value can be defined as what a customer is willing to provide for the company's product. What a customer is willing to pay for the outcome depends on the core competency of the company. A core competency can be defined as what extra value the company provides to the customer. Core competencies distinguish one company from others and determine why customers should prioritise this company over their competitors. Core competencies are gained through the process of earning or accumulating resources and capabilities. 
For the past few decades, the management of H&M, the second-largest clothing retailer, has been trying to identify and increase the core competencies. The management of this company is trying to identify the core competencies to better position its product over others. In order to accomplish this purpose, H&M is using its unique resources and capabilities. And it is their internal resources and capabilities that enhance their core competencies which in turn help them be the second-largest clothing retailer in the whole world.
Unique and basic resources of H&M:
Resources are assets that help organisations to earn revenue for themselves. Resources are crucial because they affect the sales, revenue, and profits that ensure its success. Resources are a bundle of equipment that increases a company's competitive advantage. We can divide resources into two categories –
Tangible element.

Intangible element.
Tangible Resources:
Tangible elements include financial resources and organisational resources.
Financial resources: To enhance a company's competitive advantage and increase its total market share, this company makes long-term investments, generating cash to ensure future growth.
Organisational resources: H&M does have enormous organisational resources. It does have 132000 employees in the organisation in 3700 stores, and the store is operating in 61 countries providing clothes for all ages of people from children to adults.
Intangible resources:
Intangible resources of H&M includes three types of resources that includes –
Human resources

Innovation resources and

Reputation resources.
Human Resources:
H&M ensures the right human resources with the right skills and knowledge to serve the organisation better. To have the most potential human resources, they have adapted the most appropriate recruiting process that recruits the most proficient designers.
Innovation Resources:
H&M is very fast in their new product development process. Frequent innovation becomes easier for them because they maintain a connection with the customer. This relationship helps the organisation to know how to improve their product with innovation.
Reputation Resources:
Because of having a positive image, H&M has loyal customers. Besides, it has received the "World's Most Ethical Company Award" in 2014. These things enhance company reputation, which increases the company's core competencies.
In short, the resources of H&M include its finance, location and designers. How these resources make increase their core competencies is shown in the following table:
| | | | | |
| --- | --- | --- | --- | --- |
| Resources | Value | Rare | Inimitable | Substitute  |
| Designers and Buyers | Y | N | N | Y |
| External designers | Y | Y | N | Y |
| Finance | Y | N | N | N |
| Location | Y | Y | Y | N |
Internal capabilities:
Analysing internal capabilities includes analysing three functional areas of the company. These areas are –
Effective supply chain technique – This Company maintains a good relationship with the suppliers and customers by providing awards based on their performance. Through these strategies, they maintain an effective supply chain with supplier, customer, and manufacturer.

Effective marketing technique – They do have effective advertising campaigns. They conduct surveys on customers, take their opinions to improve their customer services or customer values and recognise the company.

Effective management technique – This Company is operating in 61 countries in the world with 130000 employees. Managing such a vast company requires appropriate management techniques. Effective management techniques such as adaptability and maintaining a code of conduct allow this company to enhance its operational area.
Core Competencies:
Resources and capabilities both work together to increase the core competencies of an organisation. For example: 
Proper allocation and distribution system make H&M serve customers effectively, 

Quality designers and lead time enable H&M to have quality clothing.

Research and development and Financial resources help H&M to be ahead of the game.
In summary, we can say that the core competencies of H&M which are hardly imitable by other competitors are –
Qualified designers.

Client time flexibility.

Cost efficiency.
Q-2: Evaluating H&M strategy through PESTEL analysis and applying Porter's 5 forces model.
Answer: An organisation is affected by both external and internal environmental factors. External environmental factors that influence H&M can be identified through PESTEL analysis. PESTEL includes five ecological factors. These are –
H&M doesn't have any factory to make their clothes, but they directly work with suppliers from different countries, especially suppliers from Asia and European regions. To protect human rights, H&M has adopted UN guiding principles on Business and Human Rights. Moreover, it has introduced some mandatory training courses for the employees to reduce fire losses and other losses.  
The purchasing powers of buyers have become limited due to the world economic recession. This becomes a significant concern for the fast-moving fashion retailer H&M Company. They are trying to determine their product price within the customer budget. In order to accomplish this purpose, they started importing raw materials and cheap labour where they were found at a lower price. But the increasing cost of cotton is becoming a significant concern for the company to decrease their product price.
H&M is a socially responsible company for sure. For the betterment of society, it employs women along with men. They treat both genders equally. To provide fair wages and healthy working conditions, it has started working with ILO (International Labour Organization). It has also launched the "Fair Living Wage Map" to ensure providing fair wages to its employees. In cooperation with the United Nations, it has provided pure drinking water to 150000 people around Bangladesh, India and Pakistan. 
Change is being held fast in every business of the world because of technological innovation. Change is faster when it comes in terms of fashion retailers. To meet the increasing demand of the customers, this company has to be updated with new trends and should be able to forecast what is coming up next. Till now, H&M Company is gaining popularity due to their technological advancement. Designs of clothing change very rapidly according to the demand of customers.
As the second-largest fashion retailer company, it has given the spotlight for whatever actions it tasks. So H&M Company is careful not to lose its reputation but increase its positive image through showing them environmental companies. This company has adopted ecological laws to avoid environmental issues. To be an environmentally friendly company, they started using recycled materials, electricity from renewable sources. They also keep their corporate strategy updated to reduce environmental issues.
H&M Companies maintain international laws and regulations while operating their business. They also make sure that the suppliers of the company also preserve the rules and regulations. They are informed if the suppliers don't follow the labour or other environmental laws. Child labour is strictly prohibited here. All the employees are paid according to their contribution to the organisation's success. Discrimination based on gender or race is not allowed. This company has been announced as "World's most ethical companies-2014" for maintaining ethics, laws, rules and regulations.
Porter's five forces model: 
To measure the attractiveness of a market, porter has developed a five forces model. These five factors determine the possibility of success in a particular business. H&M Company is analysing below based on these five factors –
Establishing a clothing business doesn't require much investment. Anyone can launch this business at any time with little financial capability. So, this business easily attracts entrepreneurs who have capital restrictions. This H&M is facing massive pressure regarding new entrants.
Bargaining power of suppliers:
Due to the blessing of globalisation, clothing retailers can collect raw materials for their product from anywhere in the world, where they feel convenient. They don't have to depend on a few suppliers from their own country. H&M collects their raw materials or cheap labour from other countries like India or Bangladesh, where it is available.  This is the reason why the bargaining powers of suppliers are low for this company.
Bargaining power of buyers:
The bargaining power of buyers of this company tends to be higher. Nowadays, consumers do have many options. Increased technology lets customers know about different options from where they can shop. Many comparison sites allow the customer to judge the other company and pick one that can better satisfy their needs.
The threat of substitute:
Clothing doesn't have a substitute product. But different types of retail businesses can be seen selling clothes in different ways. For example, online clothing stores are increasing, which provide better services than many traditional retail business firms. So the threat of replacement of this company is moderate here.
The intensity of competitive rivalry:
As the capital requirements are comparatively low in this industry, competitors are higher. In addition to that, the fashion industry is very fast-moving. So, cloth retailers need to adopt newer technology to be ahead in the game. Thus the intensity of competitive rivalry is higher here.
In short, we can present H&M Company's position based on Porter's five forces model in the following figure.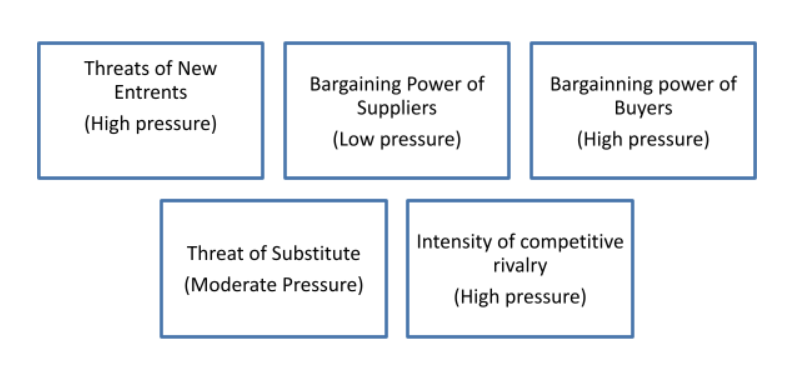 Question 3: Evaluation of the impact of H&M's stakeholders' on strategy development:
Not all stakeholders have a similar impact on a company's strategy development. To evaluate the impact of different stakeholder power/ interest analysis can be helpful. This is known as the stakeholder power/interest grid. This grid can also be used to select appropriate communication approaches on how to communicate with each group. 
Based on power/interest analysis, stakeholders can be divided into four specific groups. These groups are –
High power and high interest

High power and low interest

Low power and high interest

Low power and low interest
The impacts of these stakeholders on H&M's strategy is analysing below –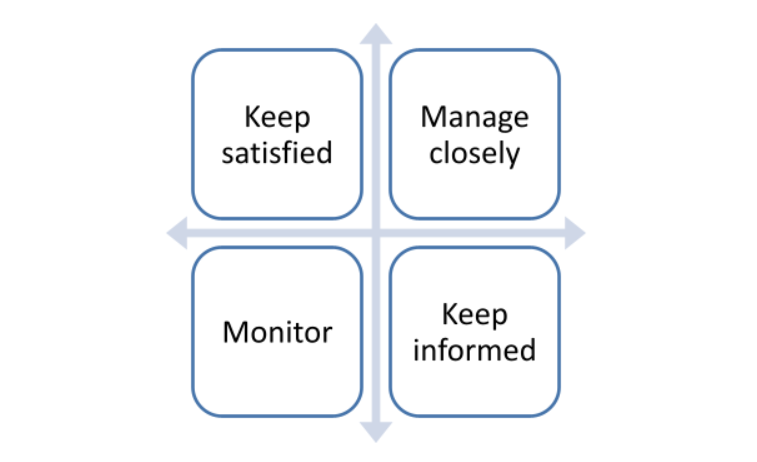 This grid is based on stakeholders' interest in our performance and their power to influence our performance. 
Customers with high power and high interest are the most critical type of stakeholder for H&M. They have a more significant influence on its strategic development. So they need to be satisfied. The company's maximum success depends on the satisfaction of these stakeholders.
Customers with high power and low interest are the second most essential stakeholders who influence a company's strategic development. Though they have little, they have a higher ability to control the performance of the organisation. This group of stakeholders needs to be closely managed.
Customers with high interest and low power are persons who have an increased interest in the company's performance but have little ability to influence the company's performance. As they hold good in the company, they take a close look over the company. From their observation, they make decisions for the company that can bring maximum growth opportunity for the company. For these reasons, they should be well informed about all the updates of the company.
And lastly, who have comparatively lower valuable stakeholders in the company's view is the last group. The group forms with stakeholders who have lower interest and lower power. To transform them into active stakeholders, they need to be closely informed.
Question 4: Identifying the marketing strategy of H&M through an analysis of Bowman's Strategy Clock.
Answer: Appropriate marketing strategy is crucial for a company's success. According to Micheal Porter, a company can undertake 3 types of marketing strategy –
Quality leadership.

Differentiation.

Cost reduction.
Porter's strategy focuses on competitive advantage with relation to the points mentioned above, but it fails to take the perceived value of the /product into account. In 1996, Cliff Bowman and David Faulkner established a model taking price and perceived value as axes and eight possible strategies. These strategies are represented in a clock; henceforth, they are formally known as Bowman's Strategy Clock. The eight possible strategies are-
Low price/ Low added value
According to this strategy, companies provide comparatively lower quality products at a lower price. The purpose is to attract price-sensitive customers. Companies don't want to follow this strategy; instead, they are forced to follow it due to their lack of differentiation in their products or services.
Companies that follow this strategy are low-cost leaders. They sell their products at a lower price than their competitors. Follower companies of this strategy also focus on price-sensitive customers. They produce products at larger volumes that enable them to attain profit even though selling at a lower price.
A hybrid strategy is a strategy that focuses on both reducing costs not changing the quality of the product.  This strategy is popular because this strategy lets customers have quality products at a lower price.
This strategy tends to differentiate products or services from other companies providing similar products or services. A company can differentiate itself at a lower cost and increase share or deliver quality products or loyal customers.
Focus differentiation is a type of strategy where both the price and quality of the product is higher. According to this theory, customers purchase high price products because they think the quality of the product justifies the price. Customers buy these products based on their perception.
Increased price/Standard product
Companies take this strategy as a chance. Either the company attains profit from charging high prices, or it loses market share to the competitors. The profitability depends if and only if customers perceive the cost as justified.
This pricing strategy is followed by companies having a monopoly in the market. As the only supplier of the production company doesn't need to heed the product's quality, consumers are bound to purchase the product because they don't have any substitute for this product. 
This strategy tends to provide lower quality products at the standard price. Those companies who follow this strategy will lose their market share due to their more inferior quality product.
Strategy zone that can be applied to H&M:
H&M is a company that provides products at a comparatively lower price than its competitors. But the perceived value of the product is higher from customers' view. As the perceived value is higher and the cost of the product is lower, H&M has gained much popularity. H&M established cost-effectiveness by outsourcing their production phase to a lower-cost labour base. This enables them to provide quality products at an affordable price. Thus it is evident that H&M follows a hybrid strategy (moderate price/moderate differentiation). This strategy helps them to attract maximum customers of their target market. 
Identifying key market segments targeted by H&M:
H&M works as a trendy fashion outlet. Their target market comprises pre-teen, teen and young people. The characteristics of customers of this segment are-
They prefer wearing fashionable clothes.

They are heavily influenced by pop culture.

They have limited buying power of their own.

They are technologically sound in the sense that they follow each and everything that goes on social media and share their view on the World Wide Web.

Their income is somewhat enough to meet their fashion expectations.

They provide clothes for people of all ages, but their main focus is women.

Customers who find shopping as a pleasure in their daily life. 
The main focus of H&M is middle-class women or working women with fashionable minds and who want to invest less in their clothes. Customer attractiveness for this market is comparatively high. Similarly, the switching possibility is also increased for the market. Brand loyalty in this market is low. Young people like to taste different types of clothes from various retailers at other times. So their main target is to attract groups of fashionable young customers aged from 25 to 35 and is also price-conscious.
Practices that the firm adopts to sustain its competitive advantage and meet customers need:
H&M Company focuses on trendy loving young generations who have limited purchasing power. To make the product affordable to the target market group, this company collaborates with suppliers from different countries, especially from countries where the product's manufacturing cost seems pretty low. To make their customers satisfied, this company has invested a large amount of money into their research and development process to be ahead of the game to fulfil the customer's demand. To provide quality products and services, they encourage their employees with wages. They also offer their employees good working conditions to better serve their employees with a content mind. They also have adapted different codes of conduct regarding how to reduce losses that might harm employees. They try to make the employees satisfied so that they can make the customer satisfied.